Wisconsin | Real_Estate_Services
Mortgages
---
Heartland Home Loans Inc.
13433 Fenway Blvd Cir N
Hugo, MN 55038
952.292.3241
Contact Person: Brian Steinert

Homepage: http://heartlandhl.com/bsteinert.html


100% Purchases
FHA
Refinance

For all your mortgage needs!
---
[Edit Listing | Contact ValueCom | Add Listing ]
---
Submit your site to 300,000+ Search Engines, Directories and Classifieds
---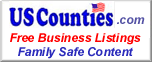 Powered by USCounties.com Data
If you wish to edit your listing please click the edit listing link above and scroll to the bottom of your page.
---

Heartland Home Loans Inc. - 13433 Fenway Blvd Cir N - Hugo, MN 55038 - 952.292.3241 -
100% Purchases
FHA
Refinance For all your mortgage needs!
Valuecom Real Estate Gold
Top 100 Keyword Searches
---