Virginia | Real_Estate_Services
---
AREAS Appraisers, Inc.
7880 Backlick Road
Springfield, VA 22150
703-866-6000
Contact Person: Chris Call

Homepage: http://www.areasappraisers.com


Residential home appraisals and house appraisals to find the market value of your property.

Appraisals of commercial and business property for finance to legal issues.

Full staff of state certified appraisers for Virginia, Maryland, and Washington, DC.


Offers real estate appraisal value services for residential home mortgages, business valuation, and commercial property with certified appraisers. Serves metro Washington, DC, Virginia, and Maryland areas, Springfield, VA and Fredericksburg, VA areas
---
[Edit Listing | Contact ValueCom | Add Listing ]
---
Submit your site to 300,000+ Search Engines, Directories and Classifieds
---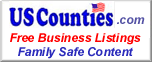 Powered by USCounties.com Data
If you wish to edit your listing please click the edit listing link above and scroll to the bottom of your page.
---

AREAS Appraisers, Inc. - 7880 Backlick Road - Springfield, VA 22150 - 703-866-6000 -
Residential home appraisals and house appraisals to find the market value of your property.

Appraisals of commercial and business property for finance to legal issues.

Full staff of state certified appraisers for Virginia, Maryland, and Washington, DC.
Offers real estate appraisal value services for residential home mortgages, business valuation, and commercial property with certified appraisers. Serves metro Washington, DC, Virginia, and Maryland areas, Springfield, VA and Fredericksburg, VA areas
Valuecom Real Estate Gold
Top 100 Keyword Searches
---