Store with Great Possiblities and 2 lots in Quiet Side of City

Need to sell for health reasons .This 1792 square ft. brick building was once a convenient store/gas station(pumps and tanks have been removed)with a drive thru window for food service a kitchen with sink, cabinets, gas hook ups and a vent-a-hood, two bathrooms, raised counter, large glass front windows, one set of double doors and a single front entrance, two empty lots next to store so building can be expanded or a home can be built next to store, building and lots equal 1 acre, a whole city block corner to corner, right off a busy historical major US highway and one block away from the major loop around the city of Longview, privacy fence backyard, front covered awning, A Quiet residential neighborhood behind building. Possible uses for this building are endless. We have established an antique, home decor and gently used furniture as well as gifts and many other collectibles, and have a steady flow of customers, We advertise in some popular publications for the East Texas Area, Weather is quite nice which brings people out. East Texas is a wonderful place to live if looking to relocate, this could be a nice change.Photos can be seen at web page ,

---
[Edit Listing | Contact ValueCom | Add Listing ]
---
Submit your site to 300,000+ Search Engines, Directories and Classifieds
---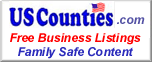 Powered by USCounties.com Data
If you wish to edit your listing please click the edit listing link above and scroll to the bottom of your page.
---

The Old Store - 3101 Longview Pkwy - Longview ,Tx.75601 - 903-553-5505 -
Store with Great Possiblities and 2 lots in Quiet Side of City Need to sell for health reasons .This 1792 square ft. brick building was once a convenient store/gas station(pumps and tanks have been removed)with a drive thru window for food service a kitchen with sink, cabinets, gas hook ups and a vent-a-hood, two bathrooms, raised counter, large glass front windows, one set of double doors and a single front entrance, two empty lots next to store so building can be expanded or a home can be built next to store, building and lots equal 1 acre, a whole city block corner to corner, right off a busy historical major US highway and one block away from the major loop around the city of Longview, privacy fence backyard, front covered awning, A Quiet residential neighborhood behind building. Possible uses for this building are endless. We have established an antique, home decor and gently used furniture as well as gifts and many other collectibles, and have a steady flow of customers, We advertise in some popular publications for the East Texas Area, Weather is quite nice which brings people out. East Texas is a wonderful place to live if looking to relocate, this could be a nice change.Photos can be seen at web page ,