New-Mexico | Miscellaneous
Online Sweepstakes
---
Skiing Sweepstakes - Taos Ski Valley, NM
PO Box 89
Taos, NM 87571
505-758-3447
Contact Person: Mary Madden

Homepage: http://taos-pillow-packages.com/sweepstakes/index.phtml


Skiing sweepstakes for Taos Ski Valley, New Mexico
Provided by area hotels, inns, and bed and breakfasts
No purchase necessary!
---
[Edit Listing | Contact ValueCom | Add Listing ]
---
Submit your site to 300,000+ Search Engines, Directories and Classifieds
---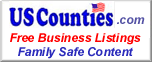 Powered by USCounties.com Data
If you wish to edit your listing please click the edit listing link above and scroll to the bottom of your page.
---

Skiing Sweepstakes - Taos Ski Valley, NM - PO Box 89 - Taos, NM 87571 - 505-758-3447 -
Skiing sweepstakes for Taos Ski Valley, New Mexico
Provided by area hotels, inns, and bed and breakfasts
No purchase necessary!
Valuecom Real Estate Gold
Top 100 Keyword Searches
---