New-Jersey | Computers_and_Internet
CD Duplication
---
Princeton Disc
600 Bay Avenue
Point Pleasant Beach, NJ 08742
800-426-0247
Contact Person: Lisa Conti

Homepage: http://www.princetondisc.com


CD/DVD duplication and replication, web design
multimedia presentations, cd business cards,
vhs to dvd conversion, blank media

Princeton Disc -- Data and Audio Experts since 1986. Specializing in CD and DVD Duplication and Replication. Call 800.426.0247 for free quote
---
[Edit Listing | Contact ValueCom | Add Listing ]
---
Submit your site to 300,000+ Search Engines, Directories and Classifieds
---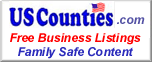 Powered by USCounties.com Data
If you wish to edit your listing please click the edit listing link above and scroll to the bottom of your page.
---

Princeton Disc - 600 Bay Avenue - Point Pleasant Beach, NJ 08742 - 800-426-0247 -
CD/DVD duplication and replication, web design
multimedia presentations, cd business cards,
vhs to dvd conversion, blank media Princeton Disc -- Data and Audio Experts since 1986. Specializing in CD and DVD Duplication and Replication. Call 800.426.0247 for free quote
Valuecom Real Estate Gold
Top 100 Keyword Searches
---