Michigan | Health_and_Personal_Care
Watkins Independent Manager
---
Watkins Products--Since 1868!
4600 W. M-72
Barton City, MI 48705
989-848-7131
Contact Person: Kelly Sutton

Homepage: http://


Personal care, gourmet foods, aromatherapy, herbal and nutritional supplements, heritage medicinals
-Watkins Red Liniment, Menthol Camphor salve, Petro Carbo salve,
household products and more--10% off if you mention this ad

Since 1868, Watkins has been providing quality products for you and your family. Founders of the first money-back guarantee. Shop at WatkinsOnline.com using ID#322547
---
[Edit Listing | Contact ValueCom | Add Listing ]
---
Submit your site to 300,000+ Search Engines, Directories and Classifieds
---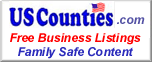 Powered by USCounties.com Data
If you wish to edit your listing please click the edit listing link above and scroll to the bottom of your page.
---

Watkins Products--Since 1868! - 4600 W. M-72 - Barton City, MI 48705 - 989-848-7131 -
Personal care, gourmet foods, aromatherapy, herbal and nutritional supplements, heritage medicinals
-Watkins Red Liniment, Menthol Camphor salve, Petro Carbo salve,
household products and more--10% off if you mention this ad Since 1868, Watkins has been providing quality products for you and your family. Founders of the first money-back guarantee. Shop at WatkinsOnline.com using ID#322547
Valuecom Real Estate Gold
Top 100 Keyword Searches
---