FREE CATALOGS PER CAMPAIGN CONTACT FOR YOURS TODAY!!

BATH & BODY, BEAUTY, MAKEUP, SKIN CARE, ECT. ALL IN ONE SPOT, NOT TO MENTION THE BEST CUSTOMER SERVICE AROUND!! I can take your order in person, on-line at website, by phone,

---
[Edit Listing | Contact ValueCom | Add Listing ]
---
Submit your site to 300,000+ Search Engines, Directories and Classifieds
---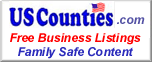 Powered by USCounties.com Data
If you wish to edit your listing please click the edit listing link above and scroll to the bottom of your page.
---

SACRED POSSESSION'S (Mrs. Matthews) - 617 OMBRAGE RD. - 70520 - 337-315-3405 -
FREE SHIPPING ON ALL ON-LINE ORDERS!!
GIFT SETS ALWAYS ON SALE!!
FREE CATALOGS PER CAMPAIGN CONTACT FOR YOURS TODAY!! BATH & BODY, BEAUTY, MAKEUP, SKIN CARE, ECT. ALL IN ONE SPOT, NOT TO MENTION THE BEST CUSTOMER SERVICE AROUND!! I can take your order in person, on-line at website, by phone,