Kentucky | Business_Opportunities
Miscellaneous
---
Creative Parties
3271 Griggstown Rd
Calvert City, KY, 42029
270-527-0574
Contact Person: Debbie Proctor

Homepage: http://www.creativeparties.cc


Theme Parties in a Box(tm)
Home Based Business Opportunity
Consultants Needed

Theme Parties In A Box(tm)!

---
[Edit Listing | Contact ValueCom | Add Listing ]
---
Submit your site to 300,000+ Search Engines, Directories and Classifieds
---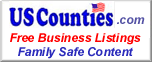 Powered by USCounties.com Data
If you wish to edit your listing please click the edit listing link above and scroll to the bottom of your page.
---

Creative Parties - 3271 Griggstown Rd - Calvert City, KY, 42029 - 270-527-0574 -
Theme Parties in a Box(tm)
Home Based Business Opportunity
Consultants Needed Theme Parties In A Box(tm)!

Valuecom Real Estate Gold
Top 100 Keyword Searches
---