Kansas | Items_Wanted
Lost Chesapeake Bay Retriever
---
Chesapeake Bay Retriever Relief & Rescue
113 W. Main Street P.O. Box#1
Henderson, MI, 48841
(989) 723-1698
Contact Person: Cindy Livingston

Homepage: http://home.talkcity.com/PrimeTimeDr/chessiemom/secondchancechessiesindex


DESPARATELY SEEKING LOST DOG
REWARD FOR RETURN

Deadgrass male Chesapeake Bay Retriever. (Looks somewhat like a blonde Lab) Some darker Masking on his face. Green collar, lost in the Lindsborg area. Was rescued from a neglected/abused situation in Michigan-escaped from foster only days before placement in a loving forever home. Spent his first 3 years of life locked in a cage with no socialization so he may be timid of some people. Moreso with men than women. Pictures available upon request. E-mail any Information to:

---
[Edit Listing | Contact ValueCom | Add Listing ]
---
Submit your site to 300,000+ Search Engines, Directories and Classifieds
---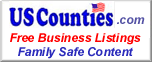 Powered by USCounties.com Data
If you wish to edit your listing please click the edit listing link above and scroll to the bottom of your page.
---

Chesapeake Bay Retriever Relief & Rescue - 113 W. Main Street P.O. Box#1 - Henderson, MI, 48841 - (989) 723-1698 -
DESPARATELY SEEKING LOST DOG
REWARD FOR RETURN Deadgrass male Chesapeake Bay Retriever. (Looks somewhat like a blonde Lab) Some darker Masking on his face. Green collar, lost in the Lindsborg area. Was rescued from a neglected/abused situation in Michigan-escaped from foster only days before placement in a loving forever home. Spent his first 3 years of life locked in a cage with no socialization so he may be timid of some people. Moreso with men than women. Pictures available upon request. E-mail any Information to:

Valuecom Real Estate Gold
Top 100 Keyword Searches
---