Indiana | Health_and_Personal_Care
---
Pro Wyatt Security
5337 south 550 east
peru, IN. 46970
765-472-4793
Contact Person: John Porbansky

Homepage: http://prowyattsecurity.trustyguard.net


Self defence and personal products from Z-Force, Stun Master, Talon, Pepper Shot, Mace, Taser and many others.
gun locks, stun guns, stun/alarm flashlights, pepper shot, pepper spray,mace,heart attack, handcuffs,child safe alarms, sports strobe, safety lights, blinkies, safety lights, motion alert, electronic watch dog, diversion safes

Personal protection products

---
[Edit Listing | Contact ValueCom | Add Listing ]
---
Submit your site to 300,000+ Search Engines, Directories and Classifieds
---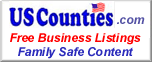 Powered by USCounties.com Data
If you wish to edit your listing please click the edit listing link above and scroll to the bottom of your page.
---

Pro Wyatt Security - 5337 south 550 east - peru, IN. 46970 - 765-472-4793 -
Self defence and personal products from Z-Force, Stun Master, Talon, Pepper Shot, Mace, Taser and many others.
gun locks, stun guns, stun/alarm flashlights, pepper shot, pepper spray,mace,heart attack, handcuffs,child safe alarms, sports strobe, safety lights, blinkies, safety lights, motion alert, electronic watch dog, diversion safes Personal protection products

Valuecom Real Estate Gold
Top 100 Keyword Searches
---