Illinois | Real_Estate_Services
Real Estate Agent
---
Champaign Urbana Illinois Real Estate
P.O. Box 7167
Champaign, IL 61826
217-355-1404
Contact Person: Chad Michaels

Homepage: http://www.real-estate-urbana-champaign-illinois.com


Get Your FREE Report!
How To Sell Your House in 7 Days or Less
Creative Real Estate Solutions for Champaign Urbana Illinois
---
[Edit Listing | Contact ValueCom | Add Listing ]
---
Submit your site to 300,000+ Search Engines, Directories and Classifieds
---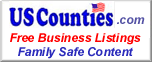 Powered by USCounties.com Data
If you wish to edit your listing please click the edit listing link above and scroll to the bottom of your page.
---

Champaign Urbana Illinois Real Estate - P.O. Box 7167 - Champaign, IL 61826 - 217-355-1404 -
Get Your FREE Report!
How To Sell Your House in 7 Days or Less
Creative Real Estate Solutions for Champaign Urbana Illinois
Valuecom Real Estate Gold
Top 100 Keyword Searches
---