Florida | Computers_and_Internet
---
WebGraFx Corporation
6534 NW 29 Street
Margate, Florida 33063
954-971-0411
Contact Person: Michael Davis

Homepage: http://www.webgrafxcorp.com


$300.00 web site design special for new clients. Visit our web site for details!
affordable web development, digital graphic design, web design, flash web site design
Web site maintenance, search engine optimization, internet marketing, coldfusion, javascript

Affordable web site development, design and digital graphic design for entrepreneurs and small and medium sized businesses.
---
[Edit Listing | Contact ValueCom | Add Listing ]
---
Submit your site to 300,000+ Search Engines, Directories and Classifieds
---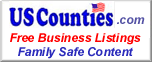 Powered by USCounties.com Data
If you wish to edit your listing please click the edit listing link above and scroll to the bottom of your page.
---

WebGraFx Corporation - 6534 NW 29 Street - Margate, Florida 33063 - 954-971-0411 -
$300.00 web site design special for new clients. Visit our web site for details!
affordable web development, digital graphic design, web design, flash web site design
Web site maintenance, search engine optimization, internet marketing, coldfusion, javascript Affordable web site development, design and digital graphic design for entrepreneurs and small and medium sized businesses.
Valuecom Real Estate Gold
Top 100 Keyword Searches
---