California | Real_Estate_Services
Real Estate Broker
---
Bears Den Real Estate
625 St. Marks St
Redding, Ca. 96003
530-223-2334
Contact Person: Diane Abair

Homepage: http://www.realestatenow.org


Real Estate in Redding, Calif.
Search MLS Listings for free
Representing Buyers & Sellers

Real Estate in Redding Calif with the highest Professional Standards - Contact us for all your Real Estate Needs
---
[Edit Listing | Contact ValueCom | Add Listing ]
---
Submit your site to 300,000+ Search Engines, Directories and Classifieds
---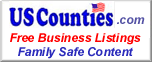 Powered by USCounties.com Data
If you wish to edit your listing please click the edit listing link above and scroll to the bottom of your page.
---

Bears Den Real Estate - 625 St. Marks St - Redding, Ca. 96003 - 530-223-2334 -
Real Estate in Redding, Calif.
Search MLS Listings for free
Representing Buyers & Sellers Real Estate in Redding Calif with the highest Professional Standards - Contact us for all your Real Estate Needs
Valuecom Real Estate Gold
Top 100 Keyword Searches
---