California | Miscellaneous
Bar Coding Equipment and Software
---
MRA Technologies
844 Woodside Rd
Redwood City, CA 94061
650-361-8140
Contact Person: P. McClure

Homepage: http://www. mra-tech.com


Bar Code or barcode technology; asset tracking, WMS, bar code scanners

MRA Technologies is a solution provider who integrates automatic data collection technology. We are an engineering-based firm focused on the integration, implementation, and installation of advanced automatic identification and automatic data collection solutions. We integrate devices such as:

---
[Edit Listing | Contact ValueCom | Add Listing ]
---
Submit your site to 300,000+ Search Engines, Directories and Classifieds
---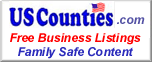 Powered by USCounties.com Data
If you wish to edit your listing please click the edit listing link above and scroll to the bottom of your page.
---

MRA Technologies - 844 Woodside Rd - Redwood City, CA 94061 - 650-361-8140 -
Bar Code or barcode technology; asset tracking, WMS, bar code scanners MRA Technologies is a solution provider who integrates automatic data collection technology. We are an engineering-based firm focused on the integration, implementation, and installation of advanced automatic identification and automatic data collection solutions. We integrate devices such as:

Valuecom Real Estate Gold
Top 100 Keyword Searches
---